Here we have a collection of the coolest metal sculptures that we have been able to find around the internet including sculptures of characters from movies, sculptures of animals and sculptures of other random things. We have wherever possible provided information about the artists who made them and linked to the websites where we found the pictures. Please share with your friends and let us know which sculpture you like the best by posting on Facebook or Twitter.
1. Chinese Water Dragon
Above: This giant Chinese dragon sculpture was created by the Canadian artist called Kevin Stone and finished in 2009. The 10-metre long sculpture took Stone 12,000 hours to make and is valued at $10 million.
2. The Big Cheese
Above: Here we have a giant aluminium Swiss cheese sculpture made by the Los Angeles based sculptor called Bruce Gray. This is one of the sculptures in Gray's series of oversized objects  and it is currently available at $15,000.
3. Arristus
Above: This stunning stainless steel sculpture was designed by  Bruce Beasley,  an American abstract expressionist sculptor born in Los Angeles and currently living and working in Oakland, California. The sculpture was made in 1981 for the Djerassi Foundation in Woodside, CA.
4. Jack Sparrow
Above: A fantastic looking sculpture of Jack Sparrow from the Pirates of the Caribbean made from huge piles of scrap metal from old cars and machines.  The sculpture is 9 feet tall and weighs almost 1000 pounds. Created by the Bangkok, Thailand based Kreatworks Studio.
5. Predator
Above: Here we have another amazing sculpture from Kreatworks Studio of Predator made entirely from scrap metal collected from junkyards. You can order one of these bad boys for yourself on Etsy for just under £7,000.
6. Battle Tricycle
Above: This awesome stainless steel battle tricycle sculpture was created by Shi Jinsong, a Chinese artist based in Wuhan and Beijing. You can see more of Jinsong's work by heading over to the Chambers Fine Art website.
7. Darth Vader
Above: A sculpture of Darth Vader from the Star Wars movies that was created by the French artist called Alain Bellino by welding a number of left over metal pieces together. If you like this realistic Darth Vader bust then check out more of his work on Behance.
8. Marilyn Monroe
Above: This Marilyn Monroe one was created by the Korean sculptor called Park Chan-girl who constructs metal sculptures from thin metal layers he calls sliced images. Check out more of his fantastic sculptures at the Colossal website.
9. Frog
Above: A frog sculpture by the French sculptor called Edouard Martinet who uses left over parts from things like bikes, cars and mopeds to create anatomically correct representations of sea life, birds, amphibians, and insects.
10. Lion
Above: A beautifully intricate sculpture of a Lion from the Istanbul, Turkey based sculptor called Selçuk Yılmaz made from nearly 4,000 pieces of scrap metal, each hand cut and hammered into shape. The lion is 6 feet tall and weighs almost 500 pounds. See other works of Selçuk on his Behance.
11. Horse
Above: South Dakotan sculptor John Lopez makes life-sized sculptures with a uniquely Western American twist using old farm equipment and scrap metal. This life-size Friesian horse was created for the Historic Runnymede Farm.
12. Eagle
Above: Got another one from Kevin Stone here who has always been fascinated with nature and bald eagles which are often seen in British Columbia where the artist was born. You can see more pictures of this huge metal eagle at Fludit.
13. Dinosaur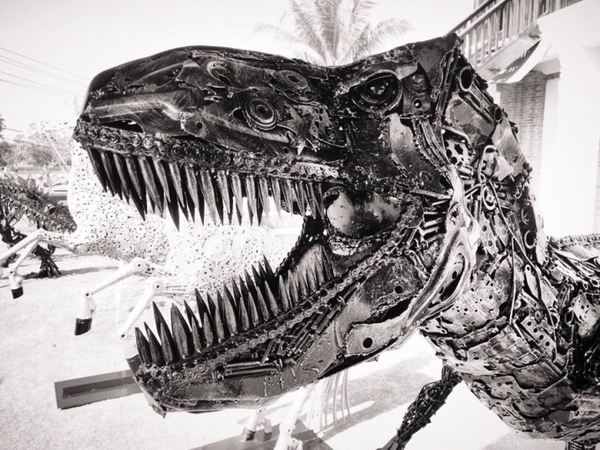 Above: This ferocious looking dinosaur was made by Ban Hun Lek, a metal workshop based in Thailand that creates beautiful sculptures out of various bits of scrap metal. The team 1st started doing scrap metal art back in the year 2000 as a hobby.
14. Motorcycle
Above: Unfortunately we were unable to find any information about this awesome looking motorcycle sculpture but we decided to include it in the collection anyway because we liked it so much. We found the picture on a blog called Extremely Weird Stuff.
15. Alien
Above: To finish off the collection we have another one from Kreatworks Studio who have got to be our favourite metal sculptors. Obviously this sculpture has been made to look like the alien from the film Alien.
Are you an artist looking for a steel supplier? BuyMetalOnline offers metal sheet cut to size. We offer 10% discount on orders over £100 (offer details here).