Buy Metal Online customer Dan Cooper recently clad his two garden sheds in our gorgeous Corten steel (below). This was a smart move, not only because Dan's sheds went on to win our #MadeWithMetal competition, but because Corten looks great and lasts a long time. Forget worrying about maintaining wooden sheds and fighting rot; the vibrant rust-coloured coating on Corten steel (aka weathering steel) is built to last.
All over the world, architects and DIYers are realising the potential of Corten for small, stylish structures. Thinking of using Corten in your outdoor space? From portable offices to tiny houses, there are a wealth of inspiring Corten sheds and cabins out there. Scroll on to be seriously inspired…
1. Shed and Home Office, Kent, UK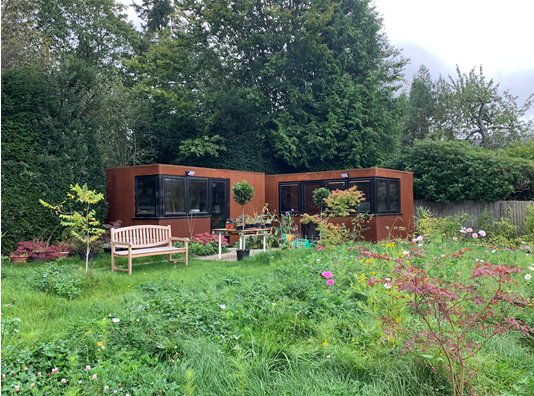 Like many people in 2021, Dan was looking for a quiet place to work from home, and he made one of these sheds his home office. Dan constructed the sheds in his Kent garden himself. He used a timber frame and our quality 16swg (1.5mm thick) Corten steel. Arranged in an L-shape and designed to conform with planning regulations, the two sheds look resplendent in Dan's peaceful garden. That's one idyllic home office.
2. 'Site Shack', British Colombia, Canada
This clever little shack was designed by Powers Construction as an office for its site managers. Miles cosier than shipping containers, it has a full wall of glass to let in loads of light. A cold-rolled steel stove keeps workers warm in even the chilliest Canadian winters. It comes pre-made, and is designed to fit on the back of a truck for easy transportation. What's more, that seamlessly-clad Corten blends in beautifully with any landscape.
3. Wellness Resort, Krimulda Parish, Latvia
Overlooking a peaceful swimming pond, these neat cabins are part of the Ziedlejas Wellness Resort in Latvia. Combining Corten steel with wood and glass, they allow guests to truly immerse themselves in nature. Fancy features include heated floors, a remote-controlled roof window and a loft bed for kids.
4. Desert Cabins, Utah, USA
What better metal to work with in the Navajo Desert than weathering steel? These two glamping cabins were designed by graduates from the University of Colorado Denver. The Red Sand dwellings were built to accommodate visitors to the breathtaking and desolate landscape. Combining Corten with reclaimed barn wood, these rustic escapes feature plush sunken beds and dramatic windows to soak up those views. One cabin is called Sunrise, the other Sunset.
5. Artist Bothy, Highlands, Scotland
Artists Bobby Niven and Iain MacLeod designed this compact bothy as an artists' retreat. Built to be moved to the most rural locations, the bothy gives residents a true off-grid experience. Constructed from timber and Scottish larch with corrugated Corten, it's made to withstand the wildest of weather. Wood-fibre insulation, a log-burning stove and comfy mezzanine bed keep things toasty inside.
6. Glamping Cabins, Joshua Tree, USA
These 'Folly' cabins offer unbelievable views of the arid landscape of Joshua Tree, California. Designed by Cohesion Studios, this amazing accommodation boasts luxe touches like an open-air bedroom for stargazing, and showers with unadulterated views. As if that weathering steel wasn't rustic enough, there's an outdoor, sunken bath made from a galvanised steel livestock trough.
7. Garden Guesthouse, East Flanders, Belgium
This space-age structure was created by Atelier Vens Vanbelle. Their client, who works in the film industry, wanted a unique cabin in their garden to host guests. And anyone who gets to stay in the Alex Guesthouse, as it is officially known, is very lucky. Clad in weathered Corten sheets and lined in wood, the compact cabin fits in perfectly with its leafy surroundings. Wow-factor features inside include a spiral staircase up to an open-air watchtower, a cinema and a bar.
8. Yogurt Pot Eco Shed, London, UK
This innovative garden shed won Best Eco Shed at the Shed of the Year Awards – and it's easy to see why. Topped by a green roof that's a haven for local wildlife, the shed is clad in recycled yogurt pots. The living roof is trimmed with low-maintenance Corten edging that adds to the rustic aesthetic. What's more, this green shed houses up to 11 bikes inside.
9. Garden Studio, Hoofddorp, Netherlands
This modern, blocky building might be in contrast with the traditional architecture that surrounds it, but it works. Designed by Serge Schoemaker Architects, the 15m2 structure is tucked in a residential garden and serves as homeworking studio. The deep, rust-coloured tones of the Corten cladding complement the blue-grey of the neighbouring houses. A large window and laser-cute panels let in plenty of light, and the pale birch plywood interior gives a sense of calming spaciousness.
10. Garage Micro Home, Vilnius, Lithuania
A derelict garage took on a whole new lease of life when it was clad in Corten and converted into a micro-home. Attached to a crumbling building, the corner garage was nothing but a shell before IM Interiors converted it into a miniature abode. The outside might scream industrial chic, but inside, it's all airy, minimalist design. Bold looks, reliability and strength: once again, the inimitable power of weathering steel is proven.