When it comes to gardening, metal has always been useful to have around; with its strength and weatherproof properties, galvanized steel plate, for example, makes for sturdy wheelbarrows and tools. But it's not just performance that makes metal great in the garden. In recent years, the trend for industrial interiors has gradually made its way out of the back door and into the garden. Metal lends itself perfectly to the urban, industrial aesthetic, and its clean lines and neat edges contrast perfectly with the softness of flowers and plants. Whether you're looking for form, function, or both, here's how metal is everything to you and your garden.
1. Training and Trellises Mesh sheet metal makes a more modern alternative to the wooden, diamond-shaped trellises that traditionally grace garden walls. Concrete support mesh is affordable and looks great, plus its gridded structure provides an ideal network for climbing plants to cling to as they grow. A simple sheet of metal mesh is a clever way to train a clematis up a wall or guide growing peas and beans. We recommend wire mesh made from galvanized steel. Properties include strength, weather-resistance and a flexible choice of sizes, as well as a neat, geometric aesthetic. Make your garden glow at night by running solar powered fairy lights up your trellis. This excellent guide to vertical gardening with concrete wire mesh from Grow and Resist tells you how to get started.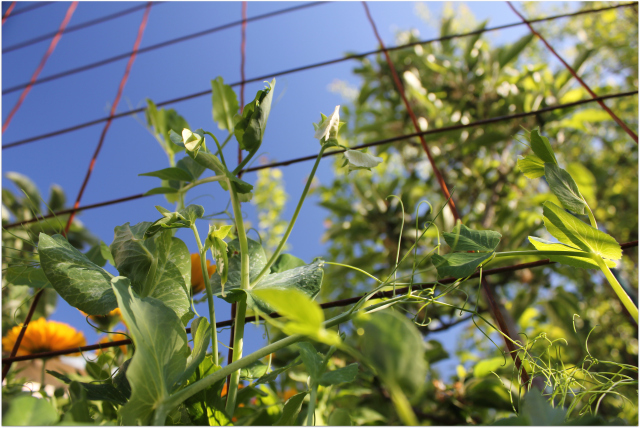 Image source: Grow and Resist
Image source: Grow and Resist
2. Full Support For heavier plants such as wisteria and vines, metal can provide a strong and highly decorative support. Cranbrook Iron can produce bespoke structures for this purpose, like the mushroom ones shown below. In Los Angeles, huge, sculptural structures festooned in bougainvillea are made to look like African baobob trees.
Image source: Cranbrook Iron
Baobob tree trellises in Los Angeles. Photo source
3. Perfect Planters Faded and cracked plastic plant pots are so last season, and wooden planters are way too high maintenance. Show off an industrial aesthetic and enjoy containers that last longer by switching to metal. For a raw edge that looks great against greenery, choose galvanized steel (click here for galvanised sheet prices), or add a colour pop to your patio with powder-coated, painted containers. We love what these smart planters from Metal Planters UK do for these urban rooftops and patios.
Image source: Metal Planters UK
4. Fire it Up The idea of sitting outside on a summer evening is great in theory, until the sun goes down and you're left shivering (unless, of course, you're lucky enough to live in sunnier climes than us). This dilemma is instantly solved with the introduction of a metal fire basket, fire pit or fire bowl to your garden. Whatever you call it, the addition of a weatherproof place to lit a contained fire will add an ambient glow and the warmth you need to enjoy your patio, however chilly the evening. Go for a neat, simple design, or choose something more artistic.
What could be better than an alfresco drink by a roaring fire? Image source
5. Shed Heaven Traditionally, wood is the material of choice when it comes to building garden sheds, but that doesn't mean it's the best. Wooden sheds are prone to rotting and need regular treatments to stay up to the job they're made for. Galvanized sheet metal sheds, on the other hand, are wonderful at withstanding the elements and, if locked correctly, can be more secure. As more people begin to see the shed as an office, retreat or extension of the home, the art of shed-building is becoming more creative. Kit sheds are easy to build but their bunker looks are less than charming. Make like the creative gardener below and add a splash of paint, trellises and windows. Or you could let your imagination run totally wild and create your very own backyard grand design like Abigail Walker, whose Nissen-style steel hut, pictured below, won her a short-listing for the Shed of the Year award. You may be surprised by what you can do with some cheap sheet metal. If you're worried about how to cut galvanized steel, don't be: our free, custom cutting service takes care of that.
Abigail Walker's striking shed. Image source: Shedblog
A kit-built shed is made over to look less like an ugly bunker. Image source.
6. Take a Seat A new generation of garden furniture means boring old wooden benches are a thing of the past. Whilst wicker sofas and swinging chairs make your garden look like it could be featured in the pages of a glossy magazine, they just don't weather as well as metal. Pick the right metal for your patio furniture and it will be virtually maintenance-free. Whether you're working with a tiny balcony or you've got space for a lavish, outdoor banqueting table, when it comes to stylish garden furniture, metal is the way forward. Pick powder-coated, painted bistro sets or go for the factory fresh look with galvanized steel.
This galvanised steel table from Life is Great features an integrated fireplace. The matching bench comes with neat storage space. Image source.
Add a splash of colour to a small space with a bright, metal bistro set. Image source.
7. Pest Prevention One of the less design-led but most important uses for metal in the garden is pest control. Metal can be used to guard plants and trees from rabbits and fence off chickens so they're safe from hungry foxes. But did you know that it can also be used to stop one of the world's fastest plants in its tracks? Bamboo looks good and its ability to spring up quickly makes it a favourite for those looking to swiftly screen off their garden. Great news for them, but not so much their neighbours, who can often find the voracious plant encroaching on their space. The answer? A layer of steel buried under the ground can stop the relentless rhizomes from breaking through. No mention of garden pests would be complete without the ultimate gardening enemy: the slug. It's a well-known fact that copper deters the slimy critters, but the popular copper tape can easily peel away and become tarnished. Use copper sheet metal to create your very own slug-deterring barriers. Find out how with this step-by-step tutorial from Permaculture UK.
DIY copper slug rings. Find out how to make them at Permaculture.co.uk
8. Art Apart from flowers, one of the best ways to add colour and interest to your garden (especially in winter) is with art. We're not talking gaudy garden gnomes here, but something more sophisticated, such as sheet metal sculpture. Metal garden art suits all budgets and tastes, from intricate plaques to minimalist sculpture, simple stakes to bespoke commissions. Talented sculptor Eddie Roberts used our Corten steel to create these magnificent chunky, statement letters. They'd make a great gift for a new couple, or you could use several could spell out a special message. Cranbrook Iron make and sell a range of effective stake decorations, like the beautiful bird shown below.
Bird stake decoration by Cranbrook Iron
Corten initials by Eddie Roberts Sculpture
9. The Leading Edge If you're looking to create different sections in your garden, metal edging is the perfect answer. Edging experts Everedge offer a huge range of options, including invisible, sunken lawn edging and bold raised beds. Choose from the smart Proedge border system, or get the industrial look with their Titan edging in Corten steel. Suppliers of a huge range of metal borders in thoughtful designs, Everedge are sure to have something to suit your garden plans."
Everedge ProEdge in black neatly separates flowerbed and path. Source: Everedge.
Everedge's Titan edging in Corten steel gives this cottage-style garden an industrial twist. Image source.
10. Water Features When it comes to creating water features, landscapers and garden designers love metal. Once upon a time, metal water features were only available as bespoke designs, but as the industrial look becomes more prominent, there has been in increase in the availability of pre-manufactured metal water features. Polished stainless steel sheet metal models offer a high-shine effect, but more rustic options are becoming very popular. Our personal favourite is Corten steel, also known as weathering steel. Suppliers of water features offer a huge range of metals and looks, though. Try a calming bowl feature like the ones below, or go for the comforting sound of trickling water with a fountain or waterfall.
11. Walls that Talk Sheet metal can make a wonderful cover-up and add instant style to breeze or cinder block walls. Choose custom-made decorative sheet metal panels or get set on your own DIY project, like this incredible cover up from Hometalk. Just a few sheets of steel and the dull wall is totally transformed.
Follow Hometalk's tutorial and use sheet metal to give your wall a total overhaul.
12. Bring Your Garden Inside We love this idea and it's so simple to make with the aid of some cheap sheet metal mesh. You could bring leaves and flowers in from the garden and arrange them in hanging vases or fill it with house plants like in the picture below. It's also a very clever option for balconies or small yards, where space is at a premium and greenery's a must. Why not go a step further and create an indoor herb garden for your kitchen?
A gorgeous grid garden. Image source: Lana Red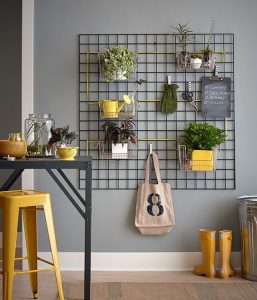 Indoor herb garden by diycraftsu.com
How have you used metal in your garden? Tell us about it! Tweet us @buymetalonline . If you're wondering where to buy sheet metal, check out our full range by clicking on the logo at the top of this page.