The nights are drawing in and the temperature's starting to drop. You might be sad to say goodbye to summer, but there's much to love about autumn. Apart from the gorgeous colours of the falling leaves, cosying up next to a crackling fire is one of the little luxuries that makes up for the cooler climate. Whether you're lucky enough to have a wood-burner in your front room or you want to extend time spent in your garden with a firepit, you're going to need somewhere to store your logs. Here's our pick of some of our favourite wood storage ideas – scroll down for inspiration!
Storage Bench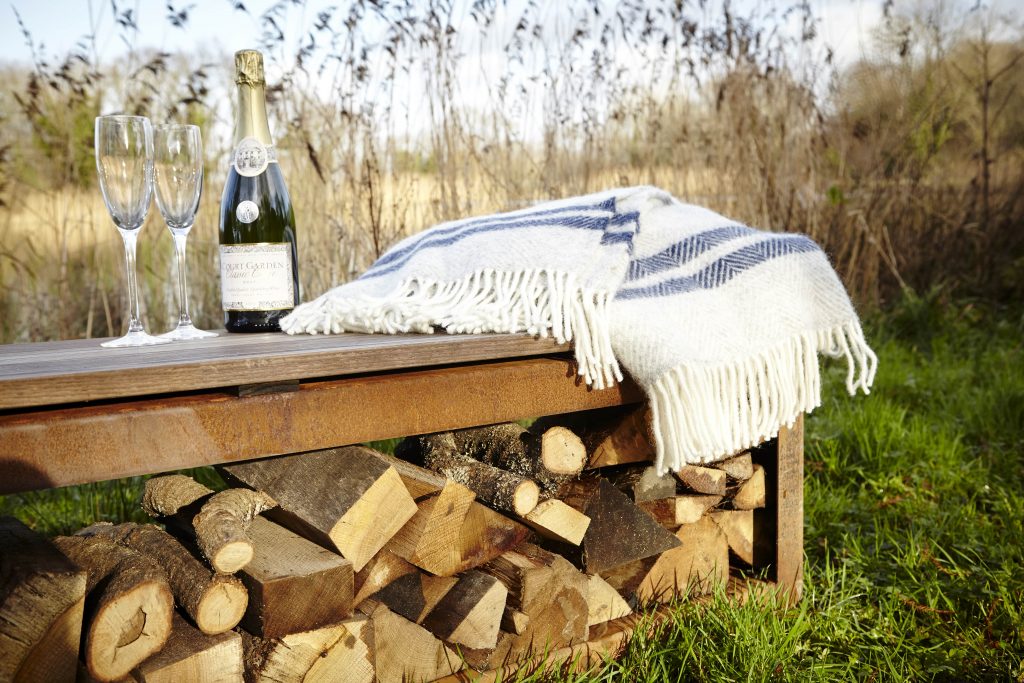 Made from durable and stylish rust-coloured Corten steel, the Jardi Wood Storage Bench cleverly combines a place to stash your firewood with a place to sit. You know those autumn leaves we mentioned? This will match them a treat.
2. Jardi Wood Storage
The Jardi Wood Storage unit is designed especially with firewood in mind, and comes in low or tall versions. Like the bench above, it's made from Corten steel, aka weathering steel, which will turn from blue-grey to a rich, patinated orange after a few months' exposure to the elements. This unit can be used inside or out, but to achieve the weathered effect, it should be left outside for the first six to nine months.
3. Honeycomb Storage
Another pick using designers' favourite metal Corten, this handmade log store is made up of tessellating hexagons that are reminiscent of a honeycomb. Place inside or out and turn your logs into an art installation while they season.
4. Wicker Baskets
If you don't buy your wood in bulk, a simple wicker basket can be just what you need to store a few logs close to your fire. Wicker won't last outside so this isn't one for your outdoor log burner, but inside it can really add to that cosy autumnal aesthetic.
5. Steel Buckets
Wood and metal look great together, and a traditional galvanised steel bucket can make the perfect place to tuck a small batch of logs, be it in your garden or your front room.
6. Wooden DIY Storage
It might not be as long-lasting and durable as sheet metal, but treated wood can be used to make a whole host of wood stores and sheds. There are plenty of ideas here, including a simple DIY solution using a couple of breeze blocks and four short planks.
7. Living Roof
One way to add more greenery to your garden is to install a living or green roof atop your shed. This neat woodstore boasts plenty of space for logs with a crop of beautiful plants on top.
8. Space-Saving Solutions
If you're short on space, you may wish to combine your wood cupboard with other outdoor storage. Many people make a dual-purpose wood and wheely-bin store, whilst this double-decker shed has room for bikes at ground level and logs upstairs.
9. Log Storage Display
Make a real feature of your drying wood, inside or out, with this free-standing Corten steel log store. Choose between the warm, rustic colours of the weathered metal, or opt for a jet black, heat-resistant varnish (shown here).
10. Circular Storage
Another black metal log store, this small, circular unit turns logs and kindling into a real focal point. Designed for use inside, it's made of powder-coated galvanised steel.